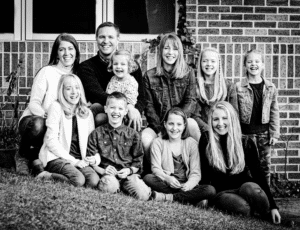 My Occupation: I am the owner of Providox LLC, so named to remind us to always rely on the Lord's providence while plodding forward like an ox. We primarily work in technical consulting.
Background at URC: Danielle and I were warmly welcomed into URC the weekend after we were married in 2002 and have since baptized our 8 children here. We've been served, taught the Bible, and given abundant opportunities to grow in faith, hope, and love within this wonderful gospel family.
About Me / My Family: Our busy family of 10 are all still living at home, though we are nearing the launching phase of life. We can't all agree on what to have for dinner, but all Spencers enjoy words, outdoor adventures, and good fellowship.